Black & Mild Cigars
pack 10/5's & 25's
Black & Mild Cigars 10/5's Packs Uprights



Black & Mild Cigars 10/5's Packs Uprights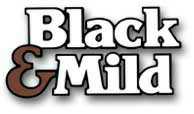 Black & Mild Cigars 10/5's Packs Uprights
***

Middleton Cigars

Middleton is a pipe-tobacco cigar made from an entirely unique recipe and blend of Middleton's finest tobaccos.
The combination produces a pipe-tobacco cigar that tastes great and smells great!


Black & Mild Cigars 10/5's Packs Uprights
***

All of the aromatic old-fashioned appeal of a pipe flavored tobacco

without the cleaning

.

Black & Mild cigars are in 10 packs of five (50 cigars total)

or in an Upright Box of 25 cigars.



Featuring a famed name in fine pipe tobaccos,

Black & Mild machine-made cigars are manufactured right here in the USA with premium pipe tobaccos built into a slim 5 x 30 size perfect for the shorter cigar break.

Providing a mellow strength profile, Black & Mild pipe-tobacco smokes are always an easy and economical option when shopping online to buy engaging and aromatic machine-made cigars featuring fresh

and

fruity flavor

.
Black & Mild Cigars 10/5's Packs Uprights
Black & Mild Cigars
*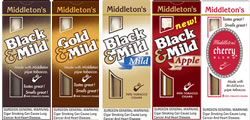 Black and Mild Apple Cigars 10/5's Packs Uprights
TM[an error occurred while processing this directive]



Black & Mild Cigars 10/5's Packs Uprights



Black & Mild Cigars 10/5's Packs Uprights