Captain Black Pipe Tobacco
Gold - Black Cherry - Royal - White
12oz cans - 1.5oz-6ct pouches
Captain Black Pipe Tobacco 12oz cans 1.5oz pouches



Captain Black Pipe Tobacco 12oz cans 1.5oz pouches



Captain Black Pipe Tobacco 12oz cans 1.5oz pouches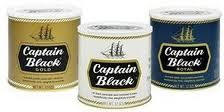 Captain Black Pipe Tobacco 12oz cans 1.5oz pouches



Captain Black Pipe Tobacco 12oz cans 1.5oz pouches
***

Captain Black Pipe Tobacco is blended with just the right proportion of Golden Virginia and Burleys, the basic blend of toasted cavendish.

Captain Black Royal Pipe Tobacco is an aromatic black and golden Cavendish, exceptionally mild, and delightfully aromatic.

Captain Black White Pipe Tobacco Rich Black Cavendish tobaccos, whiskey flavored mild delightfully aromatic.

Captain Black Gold Pipe Tobacco Matured Golden Cavendish tobaccos.

Captain Black Cherry Pipe Tobacco a Cavendish blend with a rich cherry flavor, exceptionally mild, delightfully aromatic.
Captain Black Pipe Tobacco 12oz cans 1.5oz pouches



Captain Black Pipe Tobacco 12oz cans 1.5oz pouches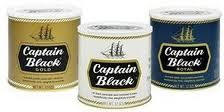 Captain Black Pipe Tobacco 12oz cans 1.5oz pouches
Captain Black Pipe Tobacco
Captain Black Pipe Tobacco 12oz cans 1.5oz pouches - Captain Black Gold Pipe Tobacco - Captain Black White Pipe Tobacco - Captain Black Royal Pipe Tobacco - Captain Black Cherry Pipe Tobacco - Can & Packs
Captain Black Pipe Tobacco 12oz cans 1.5oz pouches
Captain Black Pipe Tobacco 12oz cans 1.5oz pouches



Captain Black Pipe Tobacco 12oz cans 1.5oz pouches
Captain Black Pipe Tobacco 12oz cans 1.5oz pouches



Captain Black Pipe Tobacco 12oz cans 1.5oz pouches



Captain Black Pipe Tobacco 12oz cans 1.5oz pouches



Captain Black Pipe Tobacco 12oz cans 1.5oz pouches



Captain Black Pipe Tobacco 12oz cans 1.5oz pouches