Zig Zag Green Sweets Cigarillos 45 cigars
15 packs of 3 cigars each pack
*



Zig Zag Green Sweets Cigarillos 15/3's 45 cigars
Zig Zag Green Sweets Cigarillos 15/3's 45 cigars



*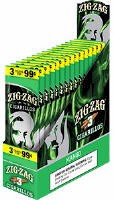 A FLAVOR THAT FITS YOU


Zig Zag Green Sweets Cigarillos 15/3's 45 cigars


Offering a wide selection that ranges from the tobacco flavor of Straight Up to a classic Cherry or unique Dragonberry flavor, Zig-Zag is the No. 1 brand in the cigar wrap category. Utilizing a unique flavor application system and a resealable foil pouch, Zig-Zag delivers fresh explosive flavors in every pack.
TM

ZIG ZAG Cigarillos

**

***


ZIG ZAG Cigarillos



Zig Zag Green Sweets Cigarillos 15/3's 45 cigars