Slap Stix Carmel Lollipop 36ct
Slap Stix Carmel Lollipop 36ct



Slap Stix Carmel Lollipop 36ct



Slap Stix Carmel Lollipop 36ct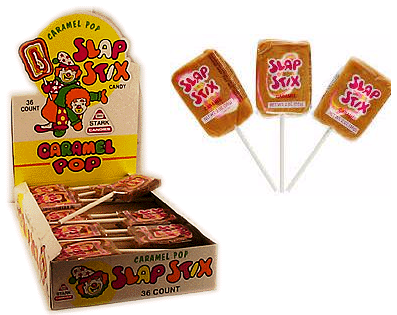 Slap Stix Carmel Lollipop 36ct



Slap Stix Carmel Lollipop 36ct
***

The Slap Stix caramel pop actually started in 1920 with the introduction of the Snirkle pop by the Stark Candy Company in Milwaukee.
Slap Stix Carmel Lollipop 36ct
Sometime in the 1960s a banana version called a Slap Stix was introduced. Other flavors were tried over the years but today only the banana version remains.
Slap Stix Carmel Lollipop 36ct
Slap Stix Carmel Lollipop 36ct
Slap Stix Carmel Lollipop 36ct
Slap Stix Carmel Lollipop 36ct